SPECIAL ANNOUNCEMENT
The Nova Scotia Band Association is excited to officially announce that Atlantic Festivals of Music will be owned and operated by the NSBA starting in 2024!
After many years of dedicated service Ron Murphy and Mike Morrissey have passed ownership of the festival to the NSBA. A huge thank-you to Ron and Mike for their service and for trusting the NSBA to continue their work.
The NSBA will strive to ensure that Atlantic Festivals of Music continues to be the high quality, rewarding and enriching experience that it has been for the past 30 years.
The James H. Hargreaves Memorial Scholarship 2023
Congratulations
Dante Kierstead, Citadel High School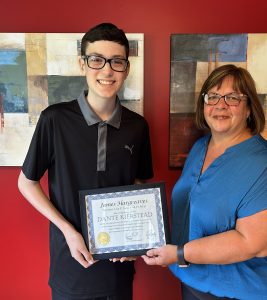 Dante & Dina Burtt, NSBA president
Nova Scotia Honours Jazz Funk Unit
---
The Jean McKenzie Memorial Band Volunteer Award

Marlene Blezy, Chester Brass Ensemble
Cornet and Librarian
Presented at the Chester Brass Concert
on June 30, 2023.
---


Nova Scotia Band Association


Board Members 2023

Executive Members
President – Dina Burtt




1

st

Vice President – Diane Clarke




2

nd

Vice President – Alison Meadows Peters




Treasurer – Jackie Crowell




Secretary – Dave Burtt


Past President – Steve Hartlen
Managing Director – Hope Gendron


Provincial Ensemble

Representatives



NSYWE – Hope Gendron




NSJWE  – Katelyn Gillis


NSHJ/NSMEA  – John McLeod



Members at Large
Melissa Ashley
Christine Blanchard
Ian Grant
Serena Godmaire
Holly Hartlen
Mark Hopkins
Holly Leader
Sarah MacDonald


Amanda Taylor


Chris Ward (Community Band Rep.)