NSBA is on Social Media!
If you are not aware, the Nova Scotia Band Association has both a Facebook page AND a Twitter account! Check them out!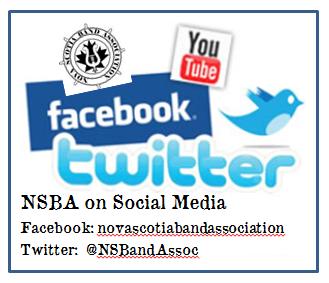 ---
Have You Received The Latest Issue?
If you have not been receiving copies of the NSBA Bi-Weekly E-Newsletter it might be for one of the following reasons:
1. The e-mail address we have for you is out-of-date or incorrect
2. You are not a member of the NSBA yet.
The NSBA e-Newsletter is distributed by e-mail every second Wednesday to our membership. If there is confusion regarding your membership, feel free to contact our NSBA Treasurer Christina Muise (treasurer1.nsba@gmail.com) or our NSBA Executive Director Chris Ward (eloboesolo@gmail.com)
---
Our Mission
NSBA's mission is to support and promote the development of bands throughout the province of Nova Scotia through communication, coordination, program development, advocacy and lobbying at the provincial level.
---
2017 Executive Committee
Steve Hartlen (President)
Mark Hopkins (Past President)
Diane Clarke (Vice President)
Christina Muise (Treasurer)
Hope Gendron (Secretary, NSYWE Rep)
Katelyn Gillis (Member-at-Large, NSJWE Rep)
Serena Godmaire (Member-at-Large)
Mike Morrissey (Member-at-Large)
Danielle Chute (Member-at-Large)
Chris Ward (Executive Director, NSBA Webmaster, NSBA e-Newsletter)