Our Mission
The Nova Scotia Band Association's mission is to support and promote the development of bands throughout the province of Nova Scotia through communication, coordination, program development, advocacy and lobbying at the provincial level.
---
Congratulations!

George Morrison
First NSBA Distinguished Band Directors Award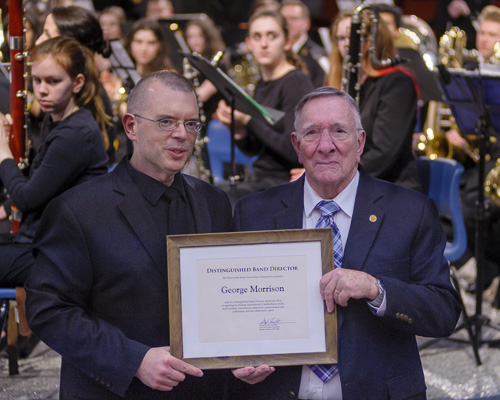 Presented on February 25, 2018 to George Morrison
by Steve Hartlen – NSBA President
It is my pleasure this afternoon to present the inaugural Nova Scotia Band Association Distinguished Band Directors Award to George Morrison. It is particularly fitting that we present this award to George at this afternoon's concert as he is a former director of both the Stadacona Band and the Nova Scotia Youth Wind Ensemble. In fact George played an important role in the history of the NSYWE as its first director in its reconstituted form.
George's nomination for this award was received from the Chester Brass Band of which he is the longest serving director. The nomination lists in wonderful detail the extensive contributions George has made to the Nova Scotia Band community starting with his military service as both a conductor and a trumpeter. Since retiring from the military George has continued conducting and playing in numerous ensembles including Chester Brass, the Sackville Community Band and Scotia Brass.
George is without doubt a very worthy recipient of this award and is an example of the kind of conductor and musician all Nova Scotia band directors should aspire to emulate. It is my honour to present the Distinguished Band Directors Award to George Morrison.
---
Have you received the latest issue of the
NSBA Newsletter?
If you have not been receiving copies of the NSBA E-Newsletter it might be for one of the following reasons:
1. The e-mail address we have for you is out-of-date or incorrect
2. You are not a member of the NSBA yet.
The NSBA e-Newsletter is distributed to our membership. If there is confusion regarding your membership, feel free to contact our NSBA Treasurer Christina Muise (treasurer1.nsba@gmail.com) or  Hope Gendron (nsband@accesswave.ca)
---