April 2018 Newsletter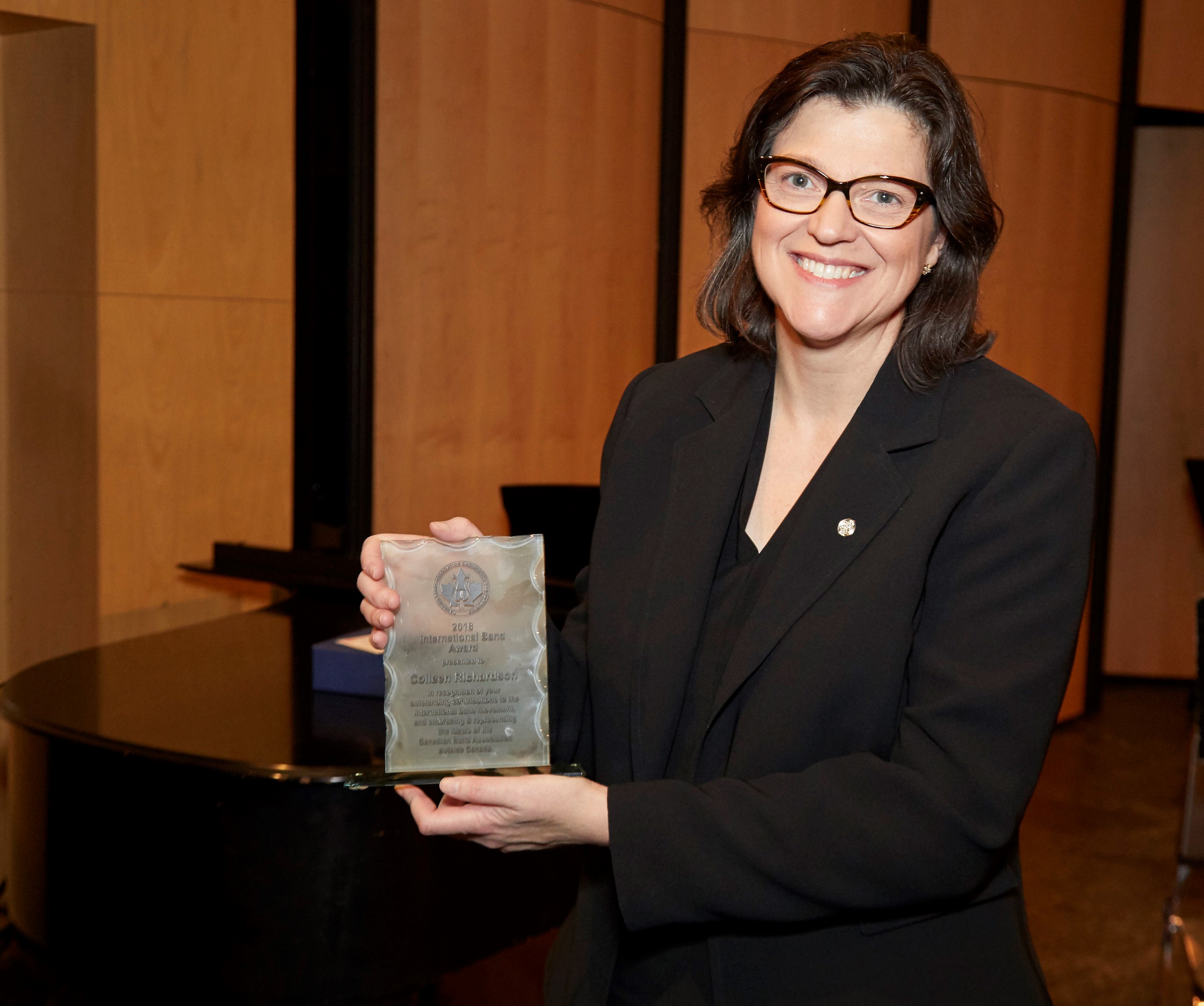 Dr. Colleen Richardson
The CBA is pleased to award the 2018 International Band Award to Dr. Colleen Richardson of London, Onatrio.  Colleen is devoted to the development of band across Canada and across nations. She has dedicated her entire life to teaching young people, from elementary students learning their first notes on an instrument through post graduate university musicians, many of whom have become recognized music educators themselves.  Colleen's international work has been quite extensive – she has conducted research across Europe, presented a variety of research at a host of international conferences including WASBE, ISME and PRIME, and she has been a very active clinician, music director and guest conductor in eight countries including a recent tour in Japan. Dr. Richardson has also made many significant contributions with Canadian contributions to a variety of published works.
Dr. Colleen Richardson is Coordinator of Bands and directs the Wind Ensemble at Western University, as well as teaches undergraduate and graduate courses in conducting and instrumental music education. In collaboration with Dr. Kevin Watson, she administrates the Western Young Winds program, which is a community band for students in grades six to nine, and supervises the undergraduate music education majors selected to rehearse and conduct the ensemble. Prior to her appointment at Western, Dr. Richardson was an Assistant Professor of Music Education and the Wind Ensemble Director at Converse College in South Carolina.
Besides being active as a clinician, adjudicator, and guest conductor nationally, Dr. Richardson has guest conducted or presented her research at conferences in Ireland, Switzerland, Italy, Taiwan, Indonesia, Japan, Wales, and the US. Her research focuses on wind literature, conducting pedagogy, and rehearsal techniques. Publications include articles for the Canadian Winds, and the Canadian Music Educator Journal, as well as multiple study guides for the Teaching Music Through Performance in Band series. Dr. Richardson has produced two CDs with the Western University Wind Ensemble (Apparitions and Explorations), and the Hunsberger DVD within GIA's DVD set entitled Three Icons: Frank Battisti, Donald Hunsberger, and H. Robert Reynolds. Dr. Richardson is also a member of the Program Leadership Team for WASBE's Composition Contest Program as Canada's representative among a host of other national members.
A native of Winnipeg, Dr. Richardson graduated from Brandon University (BMus Ed), the University of Calgary (Wind Conducting Diploma, MMus Conducting), and the University of Cincinnati College-Conservatory of Music (DMA Wind Conducting).  Her primary conducting teachers have been Rodney Winther and Glenn Price. However, she has also had opportunities to study with many other well-respected composers and conductors, including: Craig Kirchhoff, Karel Husa, Warren Benson, David Maslanka, Eugene Corporon, Mallory Thompson, Robert Reynolds, and Jerry Junkin.
While in Cincinnati completing her doctorate, Dr. Richardson co-directed the Tri-State Chamber Players, as well as served as the Music Director and Conductor of the Cincinnati Youth Wind Ensemble. Prior to her graduate studies, she taught general, choral, and instrumental music in the Canadian school system for 14 years.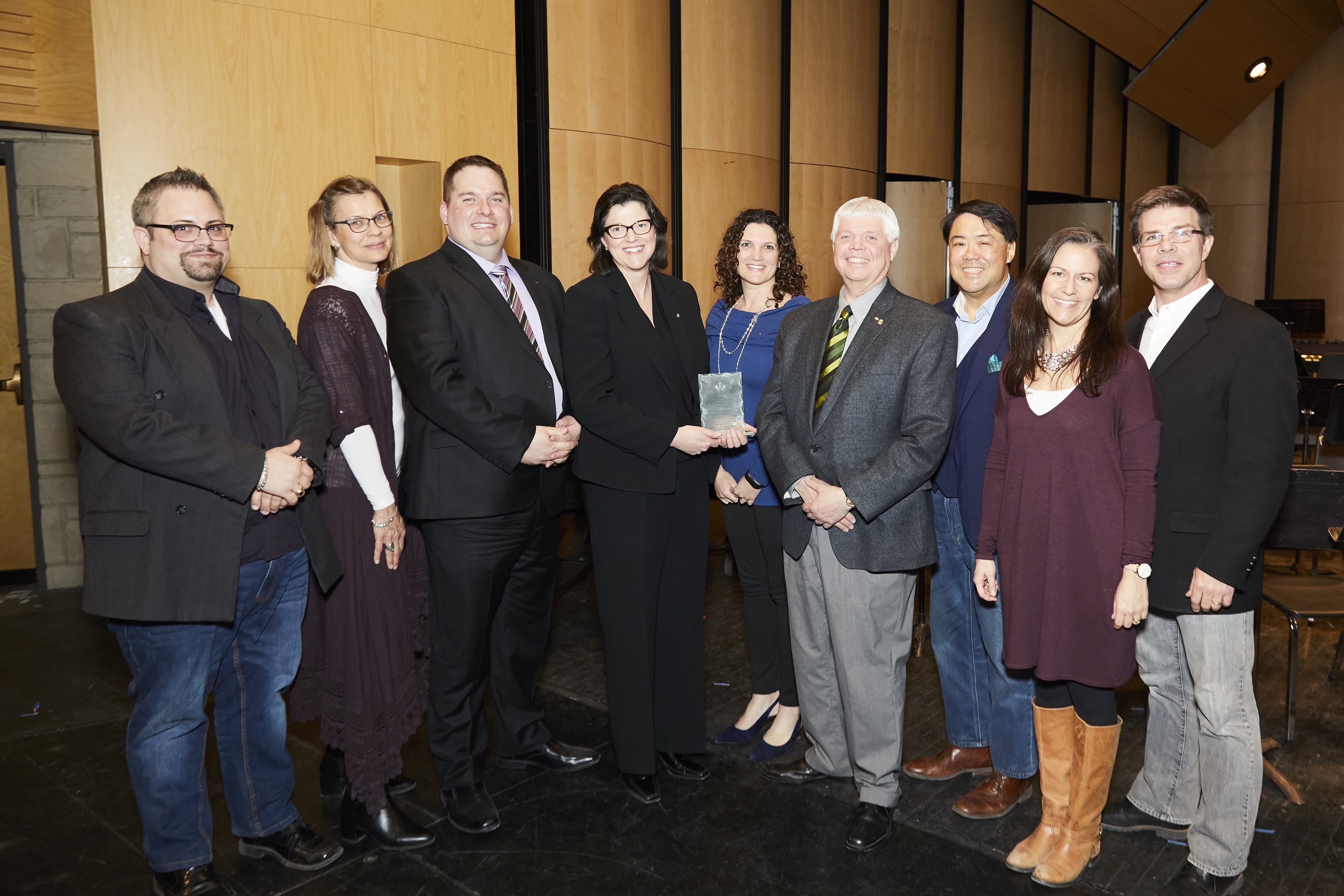 Dr. Colleen Richardson receives the
CBA International Band Award from the OBA Board
CANADIAN REPERTOIRE FEATURE
April Concert Band Feature is Sketches of Canada by Michael Storyl 
April Jazz Band Feature is Hush by Bill Thomas
March Concert Band Feature was Festival March by Scott Rogal 
March Jazz Band Feature was Rosco's Big Hit by Tom Richards
The Canadian Repertoire Features for 2018 will run monthly in this location from Tricia Howe.  NEW in January 2018 is the addition of a Jazz Feature each month.  Simply click the titles above and then on the CBA website you will be able to open the month of choice, read the reviews, and find links to the score and/or recordings.  CBA would like to thank Pauline Courcelles-Chabot for the translations that appear on the website.  For past features, please visit the Canadian Repertoire Feature page archives.
Past Publications
The CBA is looking to collect archives of the following Past Journals.  The Canadian Bandmaster (pre-1967) publication, Canadian Band Journal (1976-2001), and the Canadian Winds (2002 – present).  We would be open to receiving any and all copies of these journals you might be willing to part with, and cover the shipping to the CBA office in Winnipeg.  Please contact the CBA office at cbaband@shaw.ca to make arrangements.
March 2018 Newsletter
NYB 2018
May 6 – 13 in Montréal, QC
The 2018 National Youth Band will be held this year in Montréal hosted by the QBA.  The guest conductor is Dr. Wendy McCallum from Brandon University and it will be taking place May 6-13.  Concerts will be taking place between May 3-6 with Yamaha Guest Soloist Simon Aldrich from McGill on Clarinet.
CANADIAN REPERTOIRE FEATURE
March Concert Band Feature is Festival March by Scott Rogal 
March Jazz Band Feature is Rosco's Big Hit by Tom Richards
February Concert Band Feature was Fanfare & Festive Hymn by Nayoda Wada 
February Jazz Band Feature was Jazzmin Tea by Vince Gassi
The Canadian Repertoire Features for 2018 will run monthly in this location from Tricia Howe.  NEW in January 2018 is the addition of a Jazz Feature each month.  Simply click the titles above and then on the CBA website you will be able to open the month of choice, read the reviews, and find links to the score and/or recordings.  CBA would like to thank Pauline Courcelles-Chabot for the translations that appear on the website.  For past features, please visit the Canadian Repertoire Feature page archives.
CANADIAN MUSIC CENTRE
Dear Canadian Band Enthusiasts,  On the heels of the recent Midwest Clinic in Chicago, we pass along to you our CMC Band Catalogue of Canadian symphonic band and wind ensemble music.  We also have a number of recent acquisitions that we can send a list of.  Please contact us at www.musiccentre.ca or 403-220-7403.   We hope that you will find this information helpful. Please let us know your thoughts when you have a moment, and please let us know if we can be of assistance to you. Happy New Year!  John Reid, Prairie Regional Director.
2018 DENIS WICK CANADIAN WIND ORCHESTRA
The DWCWO is an opportunity for university wind band players to play in a national auditioned honour band, which performs at MusicFest and an opportunity for student conductors to participate in a fellows program.  May 13-18, 2018, in Toronto, ON. Dr. Gillian McKay and Dr. Mark Hopkins, conductors. Click HERE for details.  Click HERE for Audition Material.  Contact Mark Hopkins for addition information.
CANADIAN WINDS INDEX
Canadian Winds Editor Tim Malone, University of Minnesota, has compiled an index to Canadian Winds Volumes 1-15, Fall 2002 – Spring 2017.  Visit the Canadian Band Association home page where you can click on the link and then download the PDF file.  Canadian Winds is the professional journal of the Canadian Band Association. The journal seeks to be both a scholarly and pedagogical publication accessible to all instrumental music educators. The first issue of the journal was released in the fall of 2002. Canadian Winds is published bi-annually, in the fall and spring.
Thank you – Dr. Timothy Maloney
Dr. Timothy Maloney has been involved in editing the CBA Journal "Canadian Winds • Vent canadiens" since the first volume in the fall of 2002.  This fall sees the 16th volume be published twice annually under his leadership and guidance.  Dr. Maloney is stepping down as the Head Music Librarian and Adjunct Professor of Music at the University of Minnesota at the end of this term in December 2017.  Dr. Maloney received the CBA National Award in 2009 for his outstanding contribution towards band music in Canada.  On behalf of the CBA Family we congratulate Dr. Maloney on his retirement and thank him for his leadership editing the CBA Journal for the past 16 years.  He is also looking to scale back his involvement with the Journal, and the CBA Board will be looking at this in the coming months.
2018 WIND BAND
SUMMER DEVELOPMENT PROGRAMS
The CBA Enews from January – June is again looking to help promote 2018 summer activities in PD, conducting, repertoire, reading sessions, and wind band development programs across Canada.  Please email the CBA office a short description of the event including dates, location, email, phone, and web site links.
1)  Conn-Selmer Institute (CSI) is a three and a half day professional development conference for college students, directors, and music program leaders located on the beautiful campus of Bethel College in Mishawaka, Indiana. CSI equips current and future music educators with practical skills and relevant strategies that address current trends in music education. The curriculum is comprised of inspiring workshops and classes led by world-class clinicians. CSI is a must-attend event for educators at any stage in their career.  Clinicians include Dr. Paula Crider, Tim Lautzenheiser, Dr. Charles Menghini, Richard Saucedo, Michael Sweeney, and more…  Read More & Register Here!  June 10 – 13, 2018.  $99 College Student or Administrator Registration and $299 for directors. Last year's CSI sold out in February, so register soon!
2)  The dynamic duo returns!   Shelley Axelson and Tom McCauley will be visiting faculty at the University of Toronto Wind Conducting Symposium, July 3-6, 2018!   Jeff Reynolds and Gillian MacKay are delighted to host this workshop for teachers and conductors who are interested in developing their skills in a relaxed, collaborative environment.  This is a session for teachers and conductors at all levels. Come recharge your batteries with us this summer. Registration Deadline is June 15.  For more information, please contact Gillian MacKay or read more HERE!
3)  The 2018 Saskatchewan Orchestral Association International Saito Conducting Workshop with Wayne Toews will be held from July 21 to 28 in Saskatoon, SK, Canada.  Details are posted at http://www.conductorschool.com/SOA.html   This world-class workshop offers generous podium time with pianists and a professional string orchestra. Conductors of bands, choirs and orchestras at all levels will learn how to make their gestures more precise and expressive.   "After watching my rehearsal video, my prof. remarked on how exceptionally clear and precise my right hand was, that my stick technique was incredible, and "some of the best he's ever seen." … the baton is so expressive and clear …Wayne Toews taught me that!"   – Taina Lorenz, doctoral candidate.   More information is available on the website or from Wayne Toews    306.373.6408
4)  Founded in 1956, the International Music Camp Summer School of Fine Arts offers a wide array of cultural study for students and adults alike. In week-long sessions in June and July, students of all ages gain concentrated knowledge in their particular area of interest.  While the camp name speaks of its foundation in Music, IMC also offers one-week summer camp programs in Dance, Creative Writing, Painting, Drawing, Theatre, and several other Fine Arts disciplines. A faculty of 150+ artist-teachers, internationally noted guest conductors, and outstanding clinicians from the United States and Canada provide instruction to students from around the world. Professional Development is available to educators in customizable 3 or 6-day sessions to meet your needs!
Registration for the 2018 Season of the International Music Camp is now open and early bird rates are available until May 1st. Register online at www.internationalmusiccamp.com. Read more about IMC's programs, world-class guest conductors and artist teachers on our website. We are very excited to have Canadian guest conductors Darryl Ferguson and Ross Brownlee working with our wind band campers, Cheryl Ferguson with the Advanced Adult Band and Richard Carnegie with the orchestra program this summer. Canadian choral faculty includes Alisa Wiebe. Private instructors include Faculty from Brandon University, University of Manitoba, the Winnipeg Symphony and beyond.
International Music Camp Scholarships and Bursaries are available for Canadian students (April 6 deadline). The Jaring Timmerman Memorial Bursary exists to assist Canadian students with financial need in attending camp this summer! Other regional scholarships are also available. Application forms can be downloaded here. Application deadline for the scholarships and bursaries is April 6, 2018 at 10:00pm CST.  For more information visit our website or contact us at 204.269.8468 or brent@internationalmusiccamp.com Encourage your students to apply today!
5)  Music Mentors International has established distance learning master's and doctoral degree programs in Canada and Australia. Join us in our highly collaborative and inspiring environment with like-minded colleagues.  Our cohort model of instruction utilizes the experiences and talents of each participant to maximize learning opportunities.  You can also join us for an amazing week-long summer adventure in Nova Scotia, Alberta, New York, and our newest location – Las Vegas, Nevada. For more information, please visit Music Mentors International!
6)  Avenues:  Exploring Band and Jazz Methods, Monday and Tuesday, August 20-21, 2018.  Brandon University, Queen Elizabeth II School of Music.  Avenues is a two-day professional development workshop designed to review, stimulate, and explore instrumental music education.  Join Brandon University faculty hosts Greg Gatien and Wendy McCallum.  For more information or to register, contact music@brandonu.ca or (204) 727-7438 Read More Here!
---
New Brunswick Band Association
Quebec Band Association
Canadian Band Association – Ontario Chapter
Ontario Band Association
Manitoba Band Association
Saskatchewan Band Association
Alberta Band Association
British Columbia Band Association
---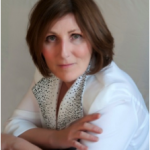 Barb Stetter
Canadian Band Association
Manager, National Youth Band of Canada