CBA National Band Award
Presented to Dr. Gillian MacKay & Dr. Mark Hopkins on
Friday May 17, 2019 at MusicFest.
Nominations in Partnership from the NSBA & OBA.
2019 National Youth Band of Canada

     Congratulations to the The 28th National Youth Band of Canada that toured Manitoba last week.  Guest conductor Dr. Mark Hopkins (Acadia University) and Yamaha Canada Music Guest Soloist Patricia Evans (WSO Principal French Horn)  performed 7 concerts in Steinbach, Gretna, Brandon, Dauphin and Winnipeg, hosted at U of M and BU.  The final concert was shared with the Winnipeg Wind Ensemble conducted by Jacquie Dawson on the evening of May 10th.  Special thanks to MBA & MBA President Robert Payne and all the many hands involved. The concert program and ensemble details have been posted to the CBA NYB website.
CBA 2019 CANADIAN COMPOSER AWARD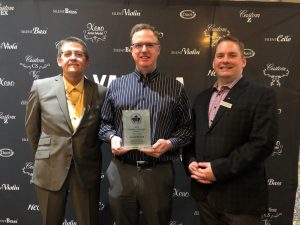 Feb 15th, 2019 – Toronto:  David Marlatt receives the
CBA 2019 Canadian Composer Award from the Ontario Band Association!
David Marlatt began Eighth Note Publications in 1996 with a 14 piece catalogue.  The catalogue consisted of arrangements completed by himself and Kenneth Bray for David's brass quintet at the University of Western Ontario.  This marked the foundation of Eighth Note Publications.
From that point forward the company began to grow; he soon began to add woodwind ensemble arrangements to the catalogue to support a need in a school.  As time passed other Canadian composers began to access David's resources and Eighth Note was beginning to be recognized for its quality music for educational purposes.  Being based in the school system as a teacher, David was very aware of what worked for students and what would challenge them as developing players. This continues today as he works with all of the composers associated with Eighth Note.
In 1998, Eighth Note Publication, from the determination of David, released its first full concert band release.  This was a change in direction for the company and set it on the way to becoming what it is today.  Eighth Note was on its way to becoming recognized across the country for its education-friendly yet challenging material.
Through Eighth Note Publications, David not only champions Canadian music, but more importantly, he provides quality music for students and professionals alike.  David attends various music educator conferences, and talks with teachers to see what they were looking for to address their classroom and rehearsal needs.  Through Eighth Note, David has filled a void in small ensembles repertoire for schools as well as created concert band music that helps teachers to deliver not only their curriculum but also provide quality literature that excites students and challenges them at the same time.
After meeting many teachers, David has been asked to provide workshops and clinics at a variety of schools on topics including: composition, arranging, the importance of chamber music within the band, how his company got started, and what else to do with a music degree.  He has also been commissioned to write many pieces by a variety of ensembles throughout the country.  Each year the Halton District School Board Band Extravaganza commissions a work by him, where he provides composer insight on the piece to the many elementary bands that participate in this event.
In 2007, Eighth Note Publications was released across the United States by Alfred Music.  This has broadened exposure of Canadian music and made more people aware of the band and small ensemble music published by Eighth Note Publications.  Eighth Note Publications is also carried in Japan, Europe, the Netherlands, Germany, and Australia. The MusicFest Canada Syllabus has 17 Eighth Note Publications pieces on it as of October 2019. This is the second only to Hal Leonard Publications. Eighth Note publications is featured on the festival syllabi of many concert band festivals in Canada.
David has composed over 40 new works and has arranged over 1000 pieces for all variety of ensembles including concert band, jazz ensemble, small ensembles of both brass and woodwinds and percussion ensemble.  His flex-band arrangements have provided the opportunity for mixed instrumentation ensembles to be played at any level of expertise.  This concept has allowed schools with any combination of instrumentation to perform quality, Canadian, band music with success and pride.
David's work is education focused as he knows what schools need for their ensembles to have success. He is a staunch supporter of Canadian band music and works hard to ensure bands all over the world are exposed to it.
CANADIAN WINDS EDITOR
The CBA wishes to thank our incredible editor, Dr. Tim Maloney, for his tireless leadership and guidance at the helm of our beloved journal, Canadian Winds. His Herculean efforts have made Canadian Winds a resource that we are all extremely proud of!   Tim has retired from his post at the University of Minnesota, and will soon retire his editor position with the CBA. We wish Tim good luck and good fortune as he transitions from academic endeavours to the fun and rewarding life of a loving grandfather!
The CBA has concluded the search for a new editor(s) and we are pleased to announce that Lynn Tucker & Roger Mantie will be taking up the helm of the Canadian Winds/Vent canadiens beginning January 1st 2019.  Work on the Spring 2019 Issue has already begun and we will have additional bio and info on Lynn & Roger.
2019 DENIS WICK CANADIAN WIND ORCHESTRA
MusicFest Canada, "The Nationals" invites you to audition for the Denis Wick Canadian Wind Orchestra, an honour group for woodwind, brass and percussion majors 15 to 24. The Denis Wick Canadian Wind Orchestra is one of the premier honour band programs in Canada. The group is comprised of 60+ members from across Canada who, after successful application, converge for a week of rehearsals and keynote performances. During their week together, these students rehearse and take master classes from outstanding professional musicians from across North America.  May 12-17, 2019, in Ottawa. Dr. Gillian McKay and Dr. Mark Hopkins, conductors. Click HERE for details.  Click HERE for Audition Material.  Contact Mark Hopkins for addition information.  There is also an opportunity for two Conducting Fellows – students with an interest in conducting and at least one undergraduate conducting course.  Contact Mark Hopkins for addition information about either program.
National Youth Band
The 2019 NYB is scheduled to take place in Manitoba, May 5-12, under the direction of Dr. Mark Hopkins and the 2020 NYB is scheduled to be in Atlantic Canada.
Yamaha Guest Soloist is Patricia Evans, WSO Principal French Horn
NYB 2019Auditions are open now until November 28, 2018. Follow us on Facebook!
Past Publications
The CBA is looking to collect archives of the following Past Journals.  The Canadian Bandmaster (pre-1967) publication, Canadian Band Journal (1976-2001), and the Canadian Winds (2002 – present).  We would be open to receiving any and all copies of these journals you might be willing to part with, and cover the shipping to the CBA office in Winnipeg.  Please contact the CBA office at cbaband@shaw.ca to make arrangements.
---
New Brunswick Band Association
Quebec Band Association
Canadian Band Association – Ontario Chapter
Ontario Band Association
Manitoba Band Association
Saskatchewan Band Association
Alberta Band Association
British Columbia Band Association
---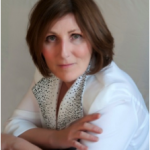 National Youth Band of Canada
Barb Stetter, Manager